Andorra
Principality of Andorra
Andorra, officially principality of Andorra, in Catalan Andorra and Princedom of Andorra, is a State of Southern Europe and, according to certain definitions, western. Lined by Spain and France, its location in the massif of Pyrenees, in fact a State mainly established of high mountains. It is one of the smallest sovereign States of Europe, with a surface of 468 km2 and a population estimated at 85 458 inhabitants in 2014. Established in 1 023 meters over the sea level, Andorra-la-Vella, its capital, is the highest of Europe. The official language is the Catalan, the official currency the euro. The currency of Andorra is "Virtus Unita Fortior", and its flag is established of three blue, yellow and red vertical bands, the yellow band being stuck of the Andorran badge. The national anthem is El Gran Carlemany.

The principality, the creation of which goes back to 780 under Charlemagne's reign, is governed by a unique system, a paréage. This contract of feudal right grants the Andorran throne to two coprinces, the Catalan bishop of Urgell and the French head of state. For a long time unknown but very attractive, Andorra went out of its isolation to the XXe century, in the course of which it took advantage of its exceptional natural frame and used an advantageous fiscal system to become a big tourist destination, welcoming about ten million visitors every year. If the principality is considered as its ski runs and its low taxes today, it is also often considered a tax haven.

She is a member United Nations since 1936, of the Council of Europe but not the European Union.
A few figures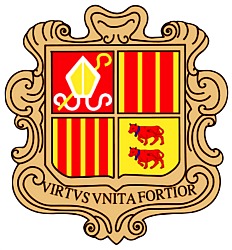 National anthem :
El Gran Carlemany​
The coins of Andorra currency