Austria
Republic of Austria
Austria, in long form the Republic of Austria (Österreich and Republik Österreich in German), is a neutral Federal state of Central Europe, without access to the sea, and the member of the European Union. She is surrounded, clockwise, by Germany and Czech Republic in the North, Slovakia and Hungary in the East, Slovenia and Italy in the South, and by Switzerland and Liechtenstein on the West. Austria is a member of the European Union (EU) and the Eurozone respectively since 1995 and January 1st, 1999. His official language is German, but since the ratification of the European Charter of the regional or minority languages, six other languages are recognized. Its capital and more big city is Vienna.

Until the proclamation in 1919 of the First Republic, Austria was, as State, a leading player of the history of Europe.

Austria is a neutral country, which does not make, for example, not left the NATO, unlike most of the countries européens6. The Austrian neutrality is a direct consequence of the negotiations for the Treaty of Austrian State (Staatsvertrag), signed on May 15th, 1955 in Vienna.

The country is a member of the European Free Trade Association from 1960 till 1995, then joins the European Union on January 1st, 1995.
A few figures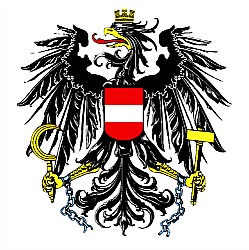 National anthem :
Country of mountains - Country on the river​
The coins of the Austrian currency
Description of the Austrian coins
The euro coins of Austria have quite different drawings, with a common theme for each of three types. The 1, 2 and 5-centime coins represent Austrian flowers, the 10, 20 and 50-centime coins of the buildings of the capital of Austria, Vienna, and the 1€ and 2€ coins of the famous Austrians. All the coins were drawn by the artist Josef Kaiser. On all the drawings represent twelve stars of the European Union