Finland
Republic of Finland
Finland, in long shape the Republic of Finland, in Finnish Suomi and Suomen tasavalta, in Swedish Finland and Republiken Finland, is a State of the member Northern Europe of the European Union since 1995.

Finland is bathed by the Baltic Sea, exactly by the Gulf of Buthnia on the West and by the gulf of Finland in the South. Its territory extends on both sides of the Arctic Circle in the oriental part of Fennoscandie, what makes of her a Scandinavian country completely outside Scandinavia. Consisted by more than 3 000 lakes and uncountable islands, among which those of the autonomous archipelago of Åland, it occupies a total surface of 338 145 square kilometers between Russia in the East, Norway in the North and Sweden in the northwest, what makes it the fifth vastest country of the European Union.

This geographical space subjected to a rigorous climate during winter is mainly a zone of taiga, the 5,3 million inhabitants whom lists the national demography conferring on the country the lowest density of all the European Union, and one of the most low to the world. Mainly installed in the South of the country, in particular on the Southern coast, where is the capital, Helsinki, but also the other most populated municipalities, worth knowing Espoo and Vantaa, who are grouped within the Capital city region or " Big Helsinki ", the Finns have two official languages, Finnish and Swedish, in which the country is respectively a conscript Suomi and Finland.

Nevertheless, although enriched by the ancestral contributions of a fertile mythology, or still by Saami as well as the autochtonous populations of the northern province of Lapland, and although it clearly westernizes following a successful reconversion of its economy of the forestry in the metal industry then the electronics, the national culture always approves by a large majority the silence and certain material perusal the sisu and the sauna of which are safe(sure) symbols.

For a long time under domination of the Swedish neighbor, under the reign of which was established the first capital, Turku, Finland remains marked by the numerous conflicts which brought into conflict her during all the recent history in Russia, imperialist power an autonomous grand duchy of which it became in 1809 and of which it obtained its de facto independence only in the term of a civil war in 1917, two new conflicts during the Second World War, and finally a long indirect supervision known under the name of Finlandization during the Cold war.

These jolts did not however prevent the establishment of a stable republic the realizations of which are often presented in models, and it in numerous domains: in particular regarding environment and regarding quality of life. The national policy articulates around a unicameral parliament, Eduskunta, around a Prime Minister, at present Juha Sipilä, and finally of a President, Sauli Niinist ö. Finland was the first one.
A few figures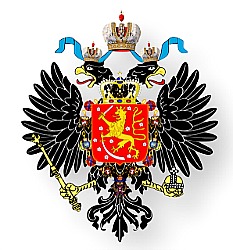 National anthem :
The song of our earth
The coins of the Finnish currency