Germany
Federal Republic of Germany
Germany, in long shape Federal Republic of Germany (abbreviated in FRG), in German Deutschland (Bundesrepublik Deutschland, pronounced and abbreviated in BRD), is a country of Central Europe, surrounded by the North Sea, Denmark and Baltic Sea in the North, by Poland and the Czech Republic in the East, by Austria and Switzerland in the South, and by France, the Luxembourg, Belgium and Netherlands on the West. Decentralized and federal country, Germany account four metropolises of more than a million inhabitants: the capital Berlin, as well as Hamburg, Munich and Cologne. The seat of government is situated in the city of Berlin and in the federal city of Bonn. The city of Frankfurt am Main is considered as the financial capital of Germany it is in this city where is the European Central Bank.
Various Germanic peoples occupy the North of the current territory since Antiquity classic. During what we name the barbaric invasions, the Germanic tribes extend southward. From the Xe century, territories form the central part of Germanic Roman Saint Roman Empire. In the XVIe century, the North of Germany is at the heart of the Protestant reformation. The Pan-Germanism pulls the unification of the German states in 1871 to form the German Empire. After the World War I, and the German Revolution of 1918-1919, the Empire is replaced by the parliamentary Republic of Weimar. The access to the power of the Nazis in 1933 leads to the Second World War, during which the dictatorial regime commits murders of mass in Europe, of which Shoah. After its military defeat in 1945, Germany loses territories and - by the will of the allied winners who enter the "cold war" - is forced to split into two nations: On the West a democratic State, the Federal Republic of Germany and, in the East, the German Democratic Republic under influence of Soviet Union. The Berlin Wall - Which symbolizes this division in the former capital - falls November 9th, 1989 and Germany is reunited again on October 3rd, 1990, with again Berlin for capital.

Germany is a member founder of the European and member Union of G7, G20, Eurozone, the Schengen area and NATO; she shelters the siege of the European Central Bank, the international Court of the maritime law and the European Patent Organization.
A few figures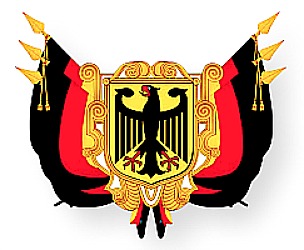 National anthem​ :
The song of Germans
The coins of the German series
Description of the German coins
Eight coins possess three different drawings : that of the 1 and 2-€ coins was drawn by Heinz Hoyer and Sneschana Russewa-Hoyer, that of the coins of 10, 20 and 50 cents by Reinhard Heinsdorff and that of the coins of 1, 2 and 5 cents by Rolf Lederbogen. Three drawings make represent around of the coin twelve stars of the European Union, in a continuous way.
The year of emission is indicated on the national face. Besides this date, letters on the national face identify the workshops of strike: A, D, F, G, J..