San Marino
Venetian Republic of San Marino
San Marino, in long shape Venetian Republic of San Marino or Republic of San Marino, in Italian San Marino and Serenissima Repubblica di San Marino and Repubblica di San Marino, is the third smallest State of Europe, after Vatican and Monaco, and the fifth to the world, after these two same States, Nauru and Tuvalu. It is also the dean of republics. It is considered as a micro-state.

Enclosed inside Italy between the Emilia-Romagna and the Marche, the country counted in February, 2015, 32 793 inhabitants, among whom 5 042 étrangers1. There is 12 973 Saint marinated living abroad. The Republic is an integral part of the historic region of Montefeltro.

San Marino is a member of numerous international organizations, among which the United Nations Organization, the UNESCO, the Council of Europe, the International Monetary Fund, the World Health Organization or the International Criminal Court. The Republic also maintains official relations with the European Union and participates in the works of OSCE.
On October 20th, 2013, a referendum took place, with as result 50,28 % (that is 6 733 votes) in favour of the opening of a procedure of membership of San Marino to the EU; however the quorum was not reached to validate this vote.

Continuation Wikipedia
A few figures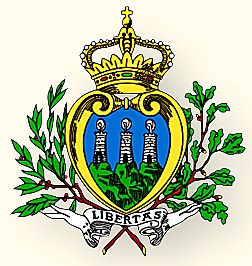 National anthem :
National anthem of the Republic
The coins of the San Marino currency
SINCE JUNE 2017