Lithuania
Lithuania
The coins of the Lithuanian currency
Lithuania possesses a unique series since 2015
The competition for the engraving was taken away by Antanas Zukauskas, engraver who had already become famous in the engraving of coins in LITAS.

Eight Lithuanian coins present quite the same drawing, with the exception of the background of stars: the knight Vytis, present on the coat of arms of Lithuania. The European stars which surround the drawing are put on vertical lines on the 1 and 2-coins, on the horizontal lines on the coins of 10, 20 and 50 ¢.
These coins present one unique motive :
Vytis, knight of the Lithuanian history
Repartition : 8 - 1 motive
Slice of the 2€ Lithuanian coin

"Liberty, unity, well-being"
Lithuania in a few figures
Official name : Republic of Lithuania
Area : 65 000 km²
Population : 3,4 millions
Density : 52 hab/km²
Political regime : Parlementary Republic
Capital : Vilnius
Languishes : Lituanian, Russian, Polish
Slogan : Vienyb? težydi - That the unity blooms
Coat of arms of Lithuania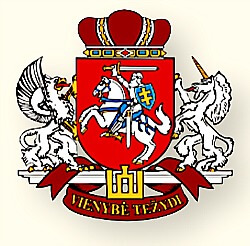 National anthem : Tautiška giesm? - Lithuania, our Homeland
The Republic of Lithuania
Lithuania (in Lithuanian: Lietuva), in long form the Republic of Lithuania (Lietuvos Respublika), is a country of Northern Europe and a Member state of the European Union, situated on the oriental bank of the Baltic Sea, in the northeast of Poland, in the North of Belarus and in the South of Latvia. Lithuania counts a little less than three million inhabitants. His capital is Vilnius, its currency the euro, its official language the Lithuanian, the Indo-European language. Lithuania is the most Southern and the biggest three Baltic States. It is also the most populated and the most tourist.
The Republic of Lithuania is a member of the European Union since May 1st, 2004 and is a member of the Schengen area since December 21st, 2007. Lithuania integrated the Eurozone on January 1st, 2015.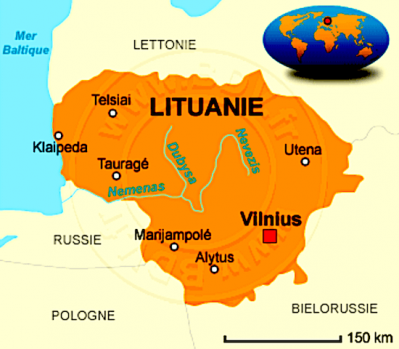 Since 2004 and its European Union accession (without inevitably of link of cause with effect), the economy of the country knew a strong growth during the 2000s (about 10 % a year): the unemployment fell thanks to the boom of the construction, real estate prices soared in arrow. But numerous young people left the country for Great Britain and Ireland. The sector of the textile(textile industry) developed well these last years for European marks(brands) top of the range. The entrance of the country to the Eurozone was looked for in particular to stabilize the financial institutions.

Before the release of the economic crisis of 2008, the growth was 8 % in 2007. In 2008, the crisis strikes hard the Baltic States, among which Lithuania, and difficulties met by Latvia, Estonia and Lithuania go as far as making be afraid of the bankruptcy of three States. The forecast of recession reaches(affects) 10 % in April, 2009. However, thanks to the crisis, the inflation strongly slowed down, and the authorities so hope to integrate(join) the Eurozone more quickly. The Baltic crisis is attributed(awarded) in particular to the behavior of the Swedish banks.
Continuation Wikipedia
Last edited: Wed 08 sep 2021