Monaco
Monaco
Coins of the Monaco currency
Monaco possesses two national series
The one previous in 2006, the other one from 2006
In 1999, the European council appoints France to negotiate a monetary agreement with Monaco

In 2002 a monetary agreement between France and Monaco passed: the Principality of Monaco is authorized to emit coins intended for the traffic and the collector's items denominated in euros from January 1st, 2002.

The Principality of Monaco makes a commitment to call on exclusively to the hotel of the Currency of Paris for the strike of its coins.
These coins present three motives :
SAS The Prince Rainier III - Albert II, The seal of the Prince Rainier III - Albert II and The coat of arms of the sovereign Princes of Monaco
Repartition : 3 3 2 - 3 motives
Slice of the 2€ monaco coin

Monaco in a few figures
Official name : Principality of Monaco
Area : 1,95 km²
Population : 32 500
Density : 15 800 hab/km² - The highest of World
Political regime : Constitutionnal Monarchie
Capital : Monaco
Languish : French
Slogan : « With help of God »
Coat of arms of Monaco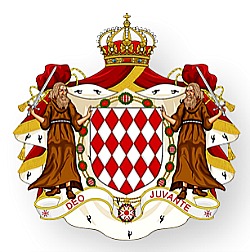 National anthem : Hymn of Monaco
The Principality of Monaco
Monaco, in long shape the Principality of Monaco, is a western european country, as well as a municipality of the same name occupying the same surface as the State itself (what makes it a city - state). She is situated by the sea the Mediterranean Sea, along Côte d'Azur (French Riviera), in about twenty kilometers east of Nice, and in 8,1 km of border city with Italy. Surrounded by the French cities of Cap-d'Ail, Beausoleil, Roquebrune-Cap-Martin and The Turbie, the Principality has a direct access to the sea and territorial waters joining international waters; it is not thus a territory enclosed strictly speaking.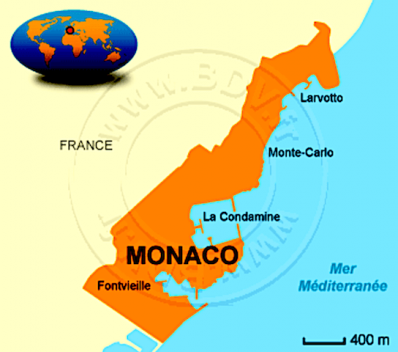 Dependent on the Republic of Genoa, of which Grimaldi was one of patrician families, relatively autonomous since 1297, it became a constitutional monarchy in 1911 and is managed since 2005 by the sovereign prince Albert II of Monaco, the dynasty of Grimaldi which is one of the most former ruling dynasties of the world (if we are held in the traditional agnatic definition of the reigning family, the principality of Monaco passed to Goyon de Matignon's family with 1731 then to family of Polignac in 1949).
This State occupied in 2005 a surface of 1,974 km25 and occupies 2,02 km26, partly gained on the sea today; the country is so the second smallest State independent from the world (the first one being Vatican). During the last census of 2016, Monaco counted 37 308 habitants. This total figure is revised at the end of every year by estimation on a partial census and data relative to the immigrations and the acquisitions of nationality. With 19 009 inhabitants in km2, and an urbanization which covers almost all its surface, it is the country most densely populated to the world.

The principality benefits from a particularly clement Mediterranean climate and arranges numerous hotel luxury installations. Grand Prix of Formula 1 of Monaco takes place there and the casino of Monte Carlo, the oceanographic museum, the princely palace, the visit of the city, attract all year round numerous tourists.
Continuation Wikipedia
Last edited: Wed 08 sep 2021