German Länders
Reading of a German coin
Some essential reminders on the German ​coins :
The indication of the broadcasting Country has changed shape repeatedly.
Until 2009 "BUNDESREPUBLIK DEUTSCHLAND" was registered inside the crown of coins.
Between on 2009 and on 2012, this indication is replaced by the "D" of Deutschland, always situated in the crown.
2013 Since, this "D" always appears Country have indication of the broadcasting, but it can be placed wherever inside the coin..
One the other hand, you know it now, there are five declensions for every room German coin: their workshop which is - for the record - A = Berlin, D = Munich, F = Stuttgart, G = Karlsruhe and J = Hamburg.
With both confusion "D" engraved in capital There was thus risk of to letter both, the one (Deutschland) being légérement bigger than that of the workshop of Munich.
Four images to illustrate these subjects
2010, D in the crown, A of Berlin in circle
2013, D at the bottom, A of Berlin in circle
2015, D on right, A of Berlin in circle
All the coins concerning German Länders are tidied up in the Tome V
Arrangement of coins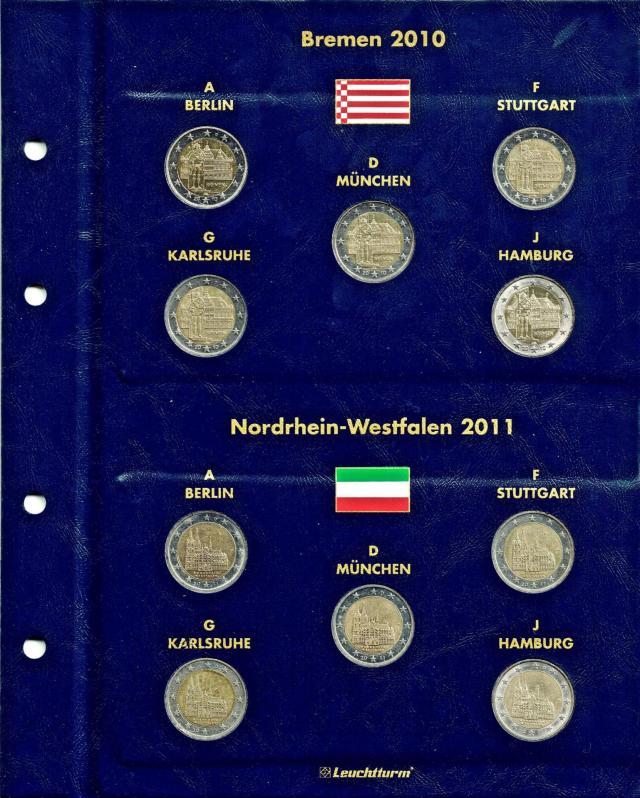 Land 1/16 - 2006 - Schleswig-Holstein
Land 2/16 - 2007 - Mecklenbourg
Land 3/16 - 2008 - Hambourg
Land 4/16 - 2009 - Saar
Land 5/16 - 2010 - Bremen
Land 6/16 - 2011 - Westphalia
Land 7/16 - 2012 - Bavaria
Land 8/16 - 2013 - Bade-Wurtenberg
Land 9/16 - 2014 - Lower Saxony
Land 10/16 - 2015 - Hesse
Land 11/16 - 2016 - Saxony
Land 12/16 - 2017 - Rhineland-Palatinate
Land 13/16 - 2018 - Berlin
The coins of Eurocol