Yugoslavia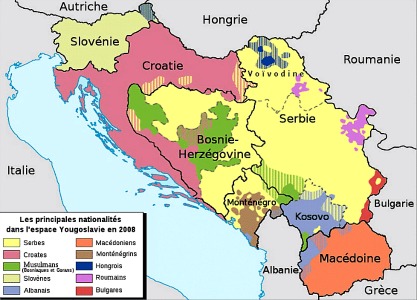 Yugoslavia
On Tue 04 oct 2016
2 comments
The a little bit long and complex history of Yugoslavia is very well detailed here.

Let us retain this: the socialist federative Republic of Yugoslavia (which was proclaimed in 1963) was a Federal state compound of six republics:

Bosnia and Herzegovina (capital Sarajevo)
Croatia (capital Zagreb)
Macedonia (capital Skopje)
Montenegro (capital Titograd, become again today Podgorica)
Serbia (capital Belgrade)
Slovenia (capital Ljubljana).
The Republic of Serbia included besides two autonomous regions (Kosovo and Vojvodina), since the constitutional reform of 1974.

Tito said that " Yugoslavia has six Republics, five nations, four languages, three religions, two alphabets and a single party.

Two Countries only are members of the EU - Croatia and Slovenia (which is also a member of the Eurozone).

What future for all these Countries?