Greece 2018 - Dodecanese
70 years of the unification of the Dodecanese in Greece
The Dodecanese is an archipelago of the Aegean Sea grouping more than 160 islands and islands, for the greater part uninhabited. His name means " twelve dodeka ) islands ( nesos ) ".
From 1947 till 2010, he trained a nome - former subdivision territorial - the administrative center of which was Rhodes, capital of the island of Rhodes. Since the reform Kallikratis, he corresponds any more to no administrative entity. The archipelago is connected with the periphery of Égée-Méridionale today and divided into four regional districts and fifteen demes (municipalities): kos, Kalymnos, Karpathos and Rhodes.
The Dodecanese is situated in the Southeast of Greece, in northeast of Crete and in southwest of the Turkish coast. The archipelago compound(made up) of 164 islands and islands is bathed by the Aegean Sea.
The The Greek commemorative of coin 2018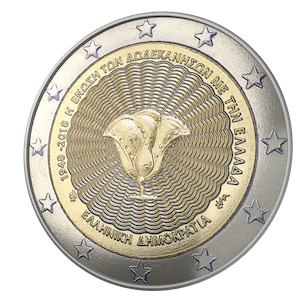 The image shows the chalice of a rose that Rhodes must symbolize as the largest island of Dodecanese. In the lower edge, we can see the monogram of the designer Stamatopoulos de Georgio.
No threads in this forum.
Start a new thread in Greece 2018 - Dodecanese