France 2018 - Simone Veil
Simone Veil, French stateswoman
Simone Veil, been born Jacob on July 13th, 1927 in Nice and died on June 30th, 2017 in Paris, is a French stateswoman.
Born in a Jewish family, she is deported to Auschwitz at the age of 16, during Shoah, where she loses her father, her brother and her mother. Survivor with her sisters Madeleine and Denise, them too deported, her husband Antoine Veil in 1946 then, after law studies and after political science, between in the judiciary as the senior official.
In 1974, she is named Minister for Health by president Valéry Giscard d'Estaing, who asks it to make adopt the law decriminalizing the appeal by a woman to the termination of pregnancy (TERMINATION OF PREGNANCY), the law which will be indicated then usually as the "law Veil". She appears from then on as icon of the fight against the discrimination of the women in France.
She is the first president of the European Parliament, recently elected in the universal suffrage, from 1979 till 1982. In a general way, it is considered one of the promoters of the French-German reconciliation and the European construction.
The 2€ French commemorative coin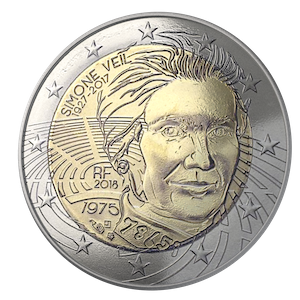 In the center of the coin, Simone Veil's portrait; to the left, initials " RF " ( French Republic); at the top, in semicircle, the inscription "SIMONE VEIL " 1927-2017 "". In the background the European Parliament, with below date " 1975 ", the year when the abortion in France was decriminalized thanks to the " Loi Veil " ( Minister for Health ); under the portrait the number " 78659 ", her number of prisoner in the concentration camp of Auschwitz-Birkenau.
No threads in this forum.
Start a new thread in France 2018 - Simone Veil